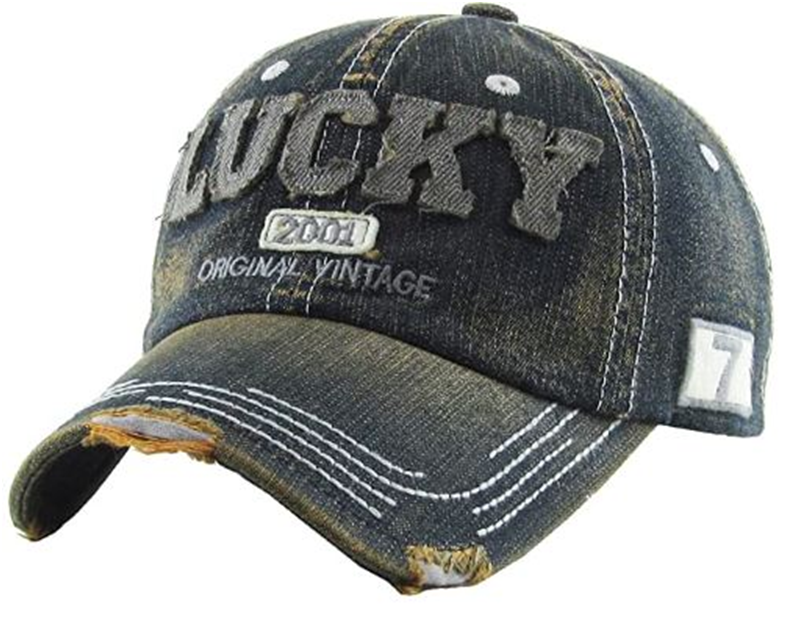 There's something special about wearing a hat that makes you feel more put together. Not only does it cover up your hair, but it also adds an extra layer of warmth!
Hats are a unique way to accessorize any outfit. And, they come in handy when you have a bad hair day.
And when it comes to choosing a hat, people prefer to wear customize hats. There are many reasons why people like to customize hats.
For some, it could be a way to show off their style and taste. Others might do it as a way of expressing themselves or as a way to make a statement.
Introduction to Distressed Hat
You must have heard about the distressed hats. But do you know what it is and what it looks like?
The distressed hat is a type of headwear that has been purposely distressed or damaged in order to give it a unique look. Distressing can be done to any hat, from baseball caps to fedoras, and is typically achieved by sanding, bleaching, or otherwise purposely degrading the material.
The end result is a hat with a unique, one-of-a-kind appearance that is often sought after by fashion-savvy individuals. Many celebrities have worn Distressed hats and can be seen on the heads of hipsters, rockstars, and trendsetters alike.
If you're looking for a hat with personality, a distressed hat is a way to go. Just be prepared to turn heads when you step out wearing one!
5 Most Prominent Benefits of a Distressed Hat
There is so much noise about the distressed hat in the market. You must have been surprised why everyone liked them. Here are the five most prominent benefits of wearing a custom distressed hat;
1. Easy to style
You can easily style a distressed hat according to your outfit. You can wear it with a casual or formal outfit; it depends on how you style it. If you want a more formal yet stylish look to your outfit, you can wear a distressed hat with a button-down shirt and trousers. You can pair your distressed hat with a t-shirt and jeans to achieve a more casual look.
2. Protects your head
A distressed hat can protect your head from the sun's harmful rays. If you are going to spend a lot of time outdoors, it is important to protect your head from the sun. Wearing a distressed hat can help you achieve this.
3. Keeps your head warm
A distressed hat can help keep your head warm if you live in a cold climate. This becomes more important if you suffer from conditions like migraines or headaches. Wearing a hat can help relieve some of the pressure on your head and neck.
4. Makes you look stylish
A distressed hat can make you look stylish and fashionable. If you want to make a fashion statement, you should definitely consider wearing a distressed hat. The market is filled with many styles and designs, so you will surely find one that suits your taste.
5. Affordable
A distressed hat is very affordable. You can find them in many different price ranges, so you will surely find one that fits your budget. There is no need to spend a lot of money on a designer hat when you can get the same look for a fraction of the price with a distressed hat.
No matter what your reason is for wearing a distressed hat, you will surely enjoy all of its benefits. So, why not give it a try? You may be grateful for how much you like it.
How to Custom Distressed Hat?
Do you want to achieve a distressed look on your hat? It's pretty easy.
One way is to use a fabric distressing technique. This can be done by using sandpaper or other abrasive materials to create a distressed look on the fabric of your hat.
Another way to create a distressed look on your hat is to distress the brim of the hat. This can be done by bending and breaking the hat's brim to have a more worn and distressed appearance.
You can also create a distressed look for your hat by adding some embroidery or applique to the hat. This can help to create an even more distressed look.
Last, you can also wear your hat a lot. The more you wear it, the more distressed it will become.
If you want to achieve a genuinely distressed look, you may want to consider wearing your hat daily for an extended period. This will help to create a natural patina that will give your hat a distressed look.
Where to Buy a Distressed Hat?
There are many places you can buy distressed dad hats wholesale. You can also find distressed denim bucket hats at most retail stores that sell hats and accessories. You can also find distressed hats online at sites like Amazon.com or eBay.
You can directly buy wholesale distressed baseball caps or vintage distressed baseball caps for Ali express.
End Notes
A distressed hat is a great way to add some edge to your look. It can be dressed up or down, and it's a great way to show off your personality. So if you're looking for a stylish way to express yourself, consider picking up a distressed hat.
***End***